NEW FEATURES
Batch Invoicing
We are thrilled to introduce the highly anticipated Batch Invoicing feature, designed to streamline and simplify your invoicing process. With Batch Invoicing, you can now generate a single invoice that can be sent to up to 50 customers at a time, with each customer billed separately. This powerful feature saves you time and effort, allowing you to effortlessly send out multiple invoices in just a few clicks.

To use Batch Invoicing, simply select the customers you would like to include in your list of Batch Invoice Recipients. Then, build a single invoice using the tried and true Invoice Builder. Our system will handle the rest, automatically generating separate invoices for each customer.

Enjoy improved efficiency and increased productivity as you streamline your invoicing workflow and effortlessly manage multiple invoices at once. For step by step instructions, see this article in this article in our Help Center.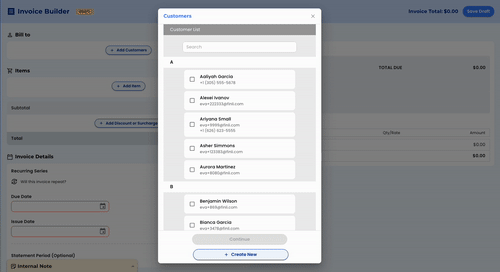 Inventory Management
Take control of your stock levels, track item quantities, and ensure accurate inventory records. With Inventory Management, you can easily track quantities on new or existing items, set reorder points for automatic alerts, and view real-time inventory status. Stay on top of your stock and optimize your operations with this helpful tool.

To begin tracking inventory, all you have to do is toggle "Track Inventory" while adding or editing an item. Then, simply enter the item's number you currently have in stock as Quantity on Hand as well as a Reorder Point. For detailed instructions, see this helpful article.

The Quantity on Hand will automatically decrease whenever that item has been included in an issued invoice. We will notify you via email and/or text message anytime your item has reached its Reorder Point.

We've also added a new Inventory filter to the Price Items table. Now you can quickly view and organize your price items based on their available quantities.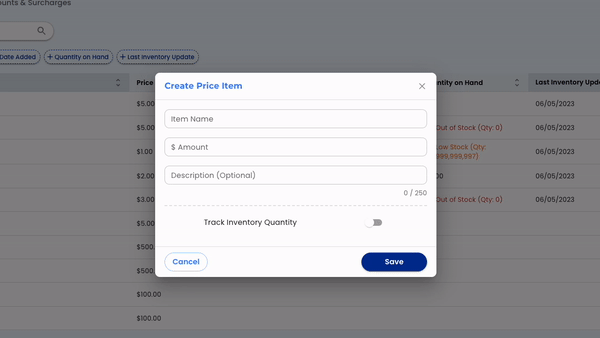 OTHER UPDATES
Payments Sent
We've updated the Payments Sent list on your dashboard to provide a more comprehensive summary of all payments that have been deposited into your bank account, allowing you to monitor your cash flow and stay on top of your business finances.

Easily access important details such as payment dates, amounts, and customer information to ensure smooth reconciliation and financial management. View this help center article to learn more.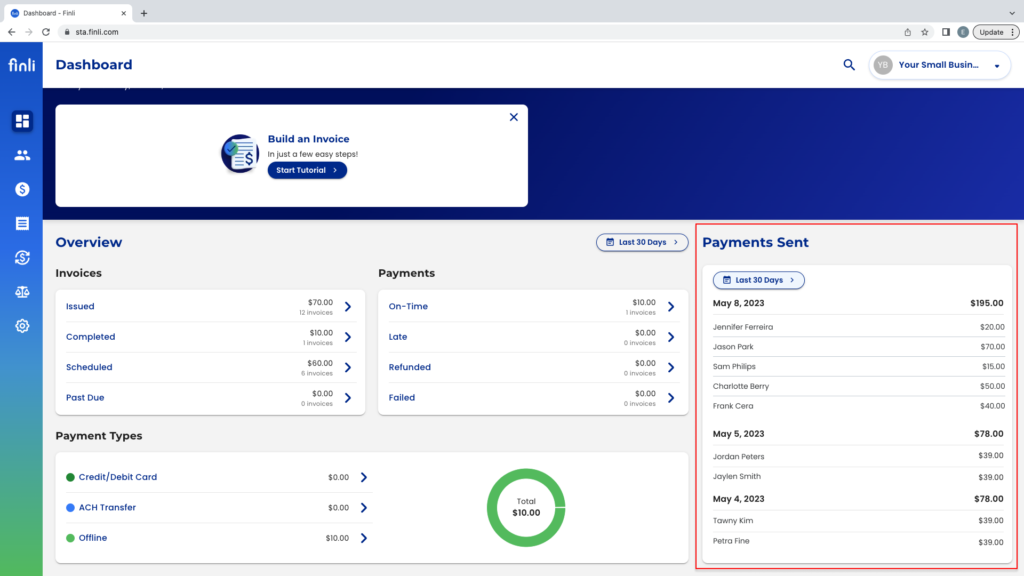 Invoice + Payment Status Changes
Based on customer feedback, changes have been made to Invoice + Payment Statuses within the Dashboard.
As a quick refresher, an Invoice Status reflects where a bill is on its way to your customer, while a Payment Status shows where your customer's payment is on its way to you.
For a full breakdown of the changes, check out this article in our Help Center.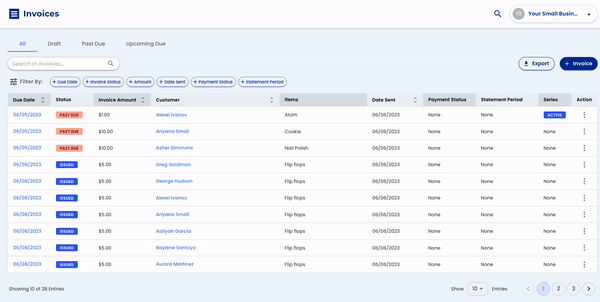 $0 Invoices
A previous bug required customers to issue payments on invoices for $0. Going forward, all invoices with no payment needed will automatically be given a status of Completed and no associated payments will be created.
Autopay
You can now easily see which of your customers has signed up for Autopay through the Customers Table.
Canceling + Pausing Series
Canceling or pausing a series will automatically remove any upcoming scheduled invoices.
Once you decide to unpause the series, new recurring invoices will be issued.
Customer Tags
You can now add tags to a customer directly from their Customer Profile.