We're excited to announce a few great updates to make the invoicing process simpler with more flexibility than ever. 
A powerful & simple interface for invoice creation
We've completely redesigned the invoice creation process for a more streamlined experience.  Whether you're sending out an invoice to be paid immediately or you're setting up a monthly recurring subscription with multiple items, you'll be able to easily do so from one screen.  Most invoices take less than 30 seconds to set up and send out.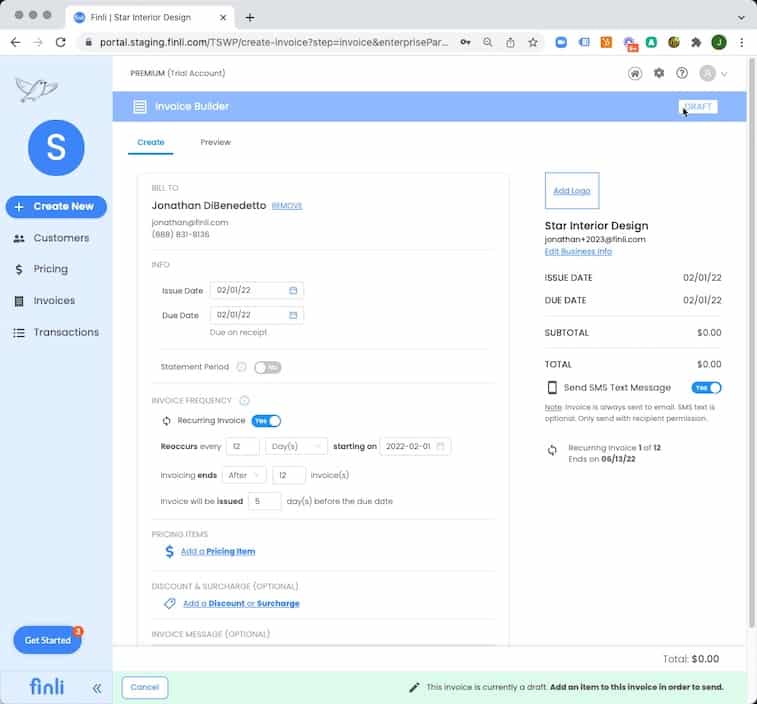 100% mobile responsive app
Did you know you can access the Finli portal through a mobile-compatible browser?  This means you can send out recurring invoices, add or update customer records, and see the status of an outstanding payment all on the go.  For directions on how to add Finli as an app on your phone's home screen, read this article.  

Set end dates on recurring invoices
You can now create an end to your recurring invoices based on a number of occurrences or a date.  For example, you can issue a set of 15 recurring invoices to go out weekly or you can send out a monthly invoice to a customer until December 31st.  This is great for setting up subscription plans that align with your contract for services.


Setup invoices to recur on an anniversary date or after a certain number of days
You now have more flexibility on when recurring invoices take place.  You can now set a monthly invoice to repeat on any date of the month (such as the date that a customer joined), a weekly invoice on any day of the week, or an invoice after a certain number of days.  Having your recurring invoices staggered rather than all due on the same day of the month can help you stabilize your cash flow.


Check out this video with our COO Jonathan DiBenedetto going over the changes in a video.
---
Need help getting started? Finli was founded to help small businesses instantly invoice, collect immediate payments, and more seamlessly handle their accounts receivable. Sign up here!