The inflation rate is the highest it has been in over a decade, and small businesses are bearing the brunt of the consequences. One way to rescue your bottom line is to increase your prices, but it can be difficult to raise your prices without losing at least some of your customers. Here are some ways to make the process of increasing your prices a little smoother.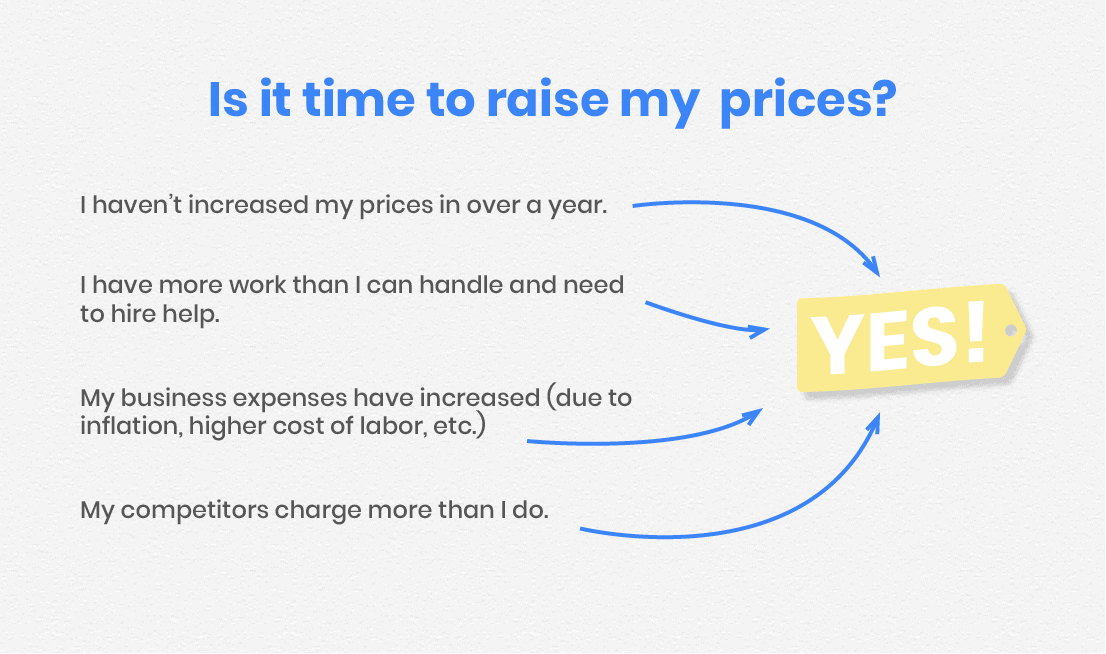 1. Sell in bundles.
The best way to increase your profit margins is to increase the size of your transactions, and selling your services in bundles is a great way to do that. By offering a bundle of your services at a lower price per unit than it would've been if your customers were to buy the unit separately, you're creating more perceived value, which in turn makes for happier customers. By doing this, you're offering price-conscious customers the ability to choose whether to pay the newly increased prices for your services or to pay something closer to the original price by purchasing your services in a bundle. For example, if you teach music lessons and usually charge $100 an hour and are thinking about increasing the price to $120 an hour, you could offer a 10-lesson bundle for $1000 and raise the price of your individual lessons for $120 so that customers who wanted to avoid paying the new price have the option to.
2. Add in a bonus.
To make the price increase a little sweeter (and a little less difficult to swallow), try throwing in a bonus. This follows the same concept we introduced earlier: customers are more willing to pay more for a service with an increased perceived value. For example, if you're a dog walker, you could try extending hour-long walks by 5 minutes if you're increasing your prices. It's a win-win-win situation—you get paid more, your customers get a little more time to themselves, and the dog gets to spend more time with you!
3. Raise your prices slowly and regularly.
If you increase your prices regularly and gradually, customers will find the change less jarring and will probably be less likely to react to it negatively. At the beginning of the year, have a plan of how much you want to increase your prices. Then, divide that amount by 2 and plan for price increases twice a year. Customers are less likely to be upset over a $2.50 increase than a $5 sudden increase.
4. Be transparent.
Your customers are people too, and they understand that small businesses are in a tough spot, with fewer resources to adapt to the seemingly rapidly increasing rate of inflation. Regardless of what your small business does, focus on how the increased prices will result in an improved service experience for the customers. For example, if you run a daycare, your customers' children will get increased individual attention because you're now able to afford more help. When you let your customers know exactly what their money is going to be spent on, they're less likely to be reluctant to give it to you.
5. Offer a subscription payment option.
Allow customers to be grandfathered in (for a limited period, ex. a year) if they sign up for a subscription—this way, you know that you'll get paid regularly and they know that they won't have to pay any increased prices for an agreed upon amount of time. There's a lot of wiggle room to play around with this tactic. For example, if they really see the value in your service, they could choose to subscribe to it for at least 2 years for a further reduced price. They're getting a good deal, and you're getting guaranteed and timely income.
Here are some other reasons to consider offering subscription payments.
---

Increasing your prices can be a difficult part of running your small business. There are ways to do it gracefully, and all of them involve keeping track of your customers (and their payment plans and information) and your payment processing all in one place. That's why we created Finli, a comprehensive payment platform built just for small businesses.