"The next 5 years will be more disruptive than the last 15. This is NOT business as usual. A lot of technology that came in three years ago doesn't work anymore."

Saul Berman, IBM
Digitalization is all the rage these days – especially when it involves small businesses. Social media and news outlets are saying that small business owners must move to digital rather than paper-based processes to serve their clients or risk failure – and it's on nearly every post-COVID best practices list. But what exactly is digitalization? Why is it so important to go digital with your business systems? And how would your small business benefit from it? And why is now the time to do it?
Well, first off, here are a few BIG reasons why you need to go digital now – even if what you've done manually has always worked for you…..sort of.
1. It's What Your Customers Are Asking For
Customers feel safe using these digital tools to pay! It's likely the case that customers are asking to pay using these methods – and small businesses are obliging. BusinessWire states that consumers are choosing to use digital payments over cash, saying that "those businesses that are savvy enough to embrace smarter commerce and invest, the growth opportunities will be huge and potentially game-changing."
Small businesses should get paid in the way their customers want to pay them, and currently AND for the foreseeable future, they want to pay digitally.
2. It's What Your Current and Future Competitors Are Doing
More small businesses are about to enter the market than ever before, and those that have been around AND continue to thrive are constantly adapting. Why shouldn't you do the same and take this opportunity to simplify your business wherever possible? And make it easier to make money along the way? Juniper Research predicts that over 4.4 billion people will use a digital wallet by 2025. They also included a piece of advice for small business owners: "​​merchants should undertake complete reviews of their processes to ensure that they are offering a highly capable mobile app. This must be inclusive of a seamless checkout process, the correct mobile wallet integrations and high levels of security, or they will lose out to more mobile-adept merchants." Simply put: small businesses that do not go digital risk losing customers to those that do!
In a nutshell: small businesses everywhere are using digital payment tools to improve their customer experience and efficiency. If you're still on the fence about going digital, the choice is clear!
There are many aspects of using digital tools versus "how you've always done it" that can be daunting for some small business owners. But all it really boils down to is letting technology make your life easier by targeting your everyday manual tasks and using digital solutions to do the work for you! What parts of your business are you currently doing manually? What parts of running your business do you have to do over and over again? For example, are you using old Excel templates or a worn out customer list that would take too long to clean up? The places where manual and repetitive work intersect is where using digital tools could benefit your business. (Think: invoicing, payment collection, having to do both when your customer pays for the same service week after week, giving out estimates and quotes, etc.)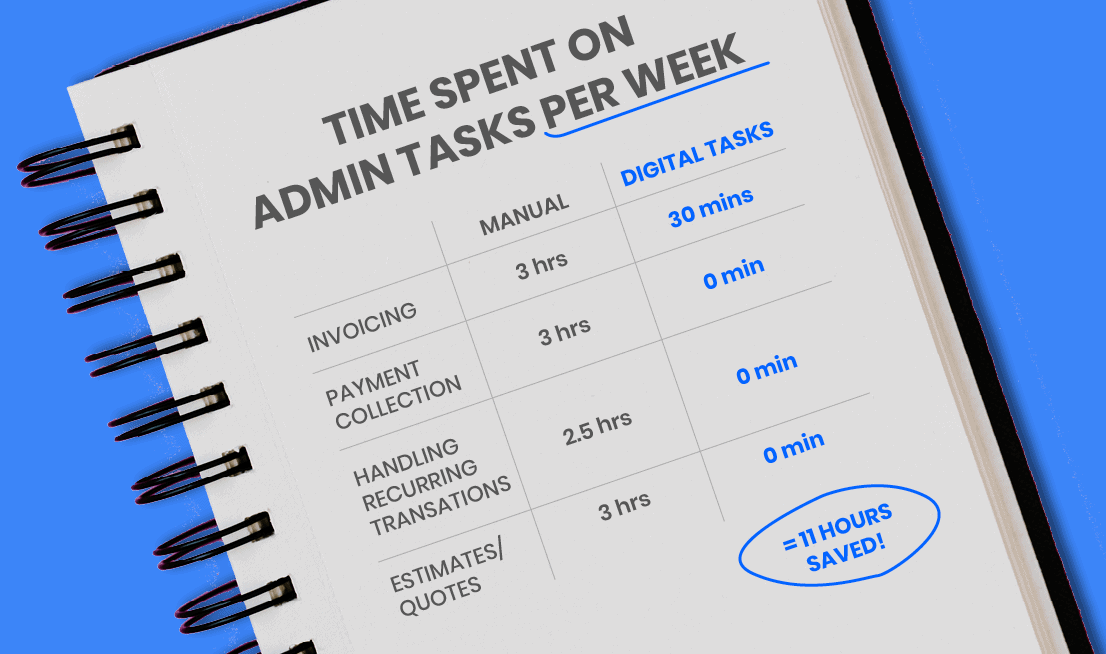 3. You Have Better Things to Do With Your Time
By being able to set and forget routine and repetitive tasks, you'll free some space to focus on what actually matters – improving your customer experience, and make sure they don't wander over to your competitors. Going digital with your payments will also allow you to more easily grow your business, and that's something we know you'd like to do.
---
Going digital can be intimidating, no matter where you are in the process. But it doesn't have to be. It takes some time to find a platform that's right for you. Here are some guidelines to keep in mind.
The right platform should save you time after your initial setup. Yes, there is a transition expense in time, but it's worth it.
It shouldn't cost you an arm and a leg.
It should be intuitive to use (after some quick study) and make your life easier.
If it doesn't check all of these boxes – keep looking! The right platform is out there somewhere!
Do we think Finli can help your small business go digital? Of course! Finli was built because we believe that small business owners already have enough on their plates. The platform they use to manage the administrative part of their business should be simple to set up and use. It should be comprehensive (and include invoicing, payment collection, and customer relationship management). If it sounds like your business could benefit from Finli, learn more about us here or schedule a free demo here.