NEW FEATURES
We're thrilled to announce the latest addition to the Finli suite: Quote Management, a powerful tool designed to simplify and elevate your business operations while helping you convert more new business opportunities.
Are you tired of the hassle of creating pricing proposals and sending invoices separately? Look no further! With Finli's Quote Management, you can now effortlessly craft and dispatch professional pricing and project proposals to your customers before initiating the billing process.
Key Features:
1️⃣ Effortless Quote Creation: Craft detailed, customized quotes in seconds with our user-friendly interface. Add itemized services, pricing, and project specifications with ease.
2️⃣ Seamless Customer Interaction: Send quotes directly to your customers for their review and approval. They can easily accept or reject the proposed terms, fostering transparent communication.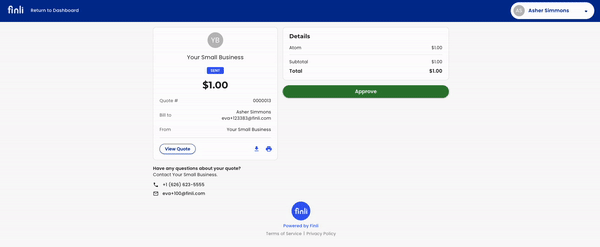 3️⃣ Convert Quotes to Invoices: Once your quote gets the green light, transform it into a polished invoice in just a few clicks. Say goodbye to manual data entry and errors!
4️⃣ Payment Ready: Approved quotes automatically become invoices, making it simpler than ever to collect payments online. Your cash flow will thank you!
5️⃣ Track and Manage: Keep an eye on the status of all your quotes, from creation to conversion. Stay organized and in control. No more missed opportunities, and a higher conversion rate for your leads!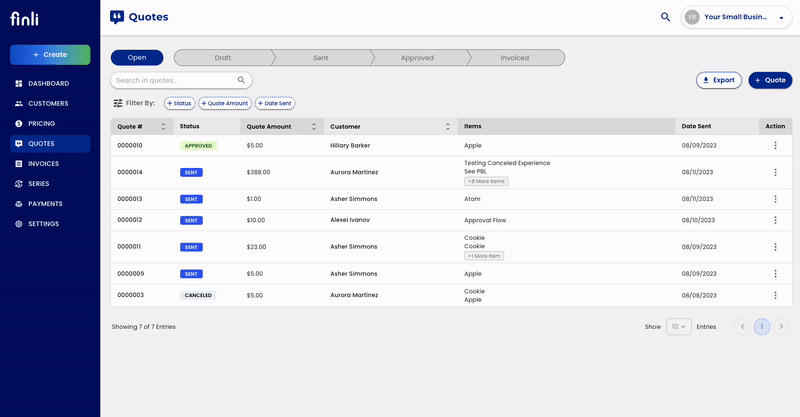 Finli's Quote Management empowers your business to streamline the pricing process, enhance customer engagement, and improve your revenue cycle. Whether you're a service provider, freelancer, or small business owner, our tool is designed to save you time, reduce errors, and boost your professionalism.
Join the ranks of businesses who have already transformed their pricing strategies with Finli's Quote Management. Take the first step toward a smoother, more efficient invoicing process today!
Ready to simplify your quoting process and convert more new business? Get started with Finli's Quote Management now! 🎉