If you've been sending your clients paper invoices up until now, you may be considering switching to a digital invoicing system. Sending online invoices will save you time and effort while helping you get paid faster.
Although it might seem daunting to switch from paper to online invoicing, the process is actually very simple – and your clients will appreciate it too. Here are some of the key benefits of online invoicing and how to make the switch.
Top reasons to switch to online invoicing
1. Paper invoices are time-consuming to create and send
As a busy solopreneur, you have enough on your plate without having to spend more time creating invoices than you have to. Paper invoices take much longer to create than digital invoices, since you'll have to format it manually and print it. Also, paper invoices are typically sent via snail mail, which is much more time-consuming than email.
All these administrative and material costs add up; in fact, a survey found that the cost of a paper invoice can range from $12 to $30. Meanwhile, there are many invoicing tools available that make billing your clients quick and easy.
2. Paper invoices are easily lost or ignored
From the client's perspective, paper invoices can be difficult to keep track of. There's always a possibility that they could get lost in the mail, especially if the envelope isn't digitally tracked. Even if the invoice does reach its final destination, they can quickly get lost in a pile of mail.
This results in delayed final payments and a major headache for you. If clients misplace, ignore, or don't receive your paper invoices, it can take several more weeks to send paper reminders, which are often ineffective. With digital invoicing, you are much more likely to get paid on time, and can easily send reminders when payments are late. And if you choose Finli as your invoicing tool, you can easily set up automatic payment reminders so your clients know when a payment is due.
3. Paper invoices create more waste
If you're looking to make your business more environmentally friendly, switching to digital invoicing can be a very effective way to do so. Paper invoices result in large amounts of unnecessary waste.
Additionally, paper invoices can take up a large volume of space in storage. You'll also need to have a printer, ink, and toner on hand to create them, while digital invoices only require a computer and an internet connection.
4. Digital invoices offer more flexible payment options
When you send a paper invoice, your client is limited in the number of ways they can pay. In the past, it was common for clients to pay their paper invoices with a paper check. However, paper checks have now become outdated, and experts have even predicted that paper checks will become completely obsolete by 2026. Depending on your invoicing software, your clients can have the option to pay via ACH transfer, credit cards, and more. You'll also have the option to set up recurring payments.
Online invoicing not only gives clients more options for payment methods but also lets you set flexible payment frequency. Many invoicing softwares, including Finli, give you the option to set up recurring invoices, making it easy for you to get paid for repeat business.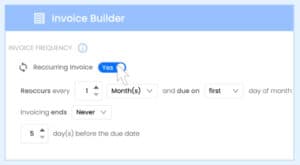 Also, digital invoicing can offer your clients the flexibility to split payment. For instance, one of Finli's users is a soccer coach who sends invoices to a set of divorced parents. They can split the cost of the soccer lessons between each other, creating a streamlined payment process with minimal back-and-forth.
5. Online invoicing gives a professional impression
Especially in a post-COVID world, customers have gotten accustomed to and even expect a streamlined digital experience from businesses. Paying paper invoices involves multiple steps: clients need to catalog your invoice, write a check, and physically mail the check each time.
Online invoicing, on the other hand, streamlines the invoicing process and keeps all your clients' info in one place. Depending on the invoicing software you use, your clients will be able to keep track of past and upcoming payments, pay electronically, and receive a receipt within minutes.
Compared with online invoicing, paper invoicing feels clunky and outdated, and can paint your business in an unflattering light. Consumers value sustainability, convenience, and security, and electronic invoicing provides all of these things.
How To Transition To Online Invoices
Digital invoicing offers plenty of benefits for both you and your customers, but the process of transitioning away from paper can feel a bit daunting. However, you'll find that once you make the switch, your entire invoicing system will feel much less stressful.
Before you transition to an online invoicing system, start by organizing all of your customer records. It may be helpful to put these records into a secure digital database so you don't lose any client information. You can cross-reference this information later when you send your first digital invoices. This is also a great time to make sure you have all of your customers' email addresses, even if you weren't using them before.
Next, you'll need to communicate with your clients about the impending changes to your invoicing system. One of the easiest ways to do this is by sending out a mass email explaining that you will be switching to a digital invoicing system and what to expect. Make sure you're available to answer any questions your clients may have. Once your clients understand how the system works, they will likely be thrilled to have digital payment options.
The best way to transition from paper to online invoicing is to choose a platform with minimal bells and whistles. Finli is primarily an invoicing tool; no complicated features or crowded interface that overwhelms you before you can even get started. Create professional invoices and start getting paid faster and quicker.
FAQ
Can you send invoices electronically?
Yes – in fact, many clients prefer to receive and pay invoices electronically. Tools like Finli allow you to create and send invoices online, send payment reminders, and more.
Can invoices be paid online?
Many businesses have switched to digital billing and invoicing with tools like Finli. These digital invoicing tools allow you to pay invoices online with a variety of payment methods, such as ACH transfer, credit card, PayPal, and more.
How can I bill my client online?
Finli is a digital billing service that allows you to send online invoices to your clients. To do this, you'll need to create an account and fill out some important pieces of information about your project. Finli auto-generates an invoice that you can send directly to your client. They will then be able to pay the invoice online, and you'll be able to monitor all payments through the app.
What is paperless invoicing?
Paperless invoicing uses email and digital payment processors to send invoices online. Paperless invoicing streamlines the billing process, making it easier for both businesses and customers.
How do I streamline invoicing?
The easiest way to streamline your invoicing is to use a digital invoice platform like Finli. Finli allows you to send invoices to your clients digitally and manage all of your incoming payments in the same place.